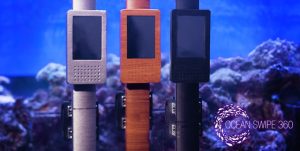 "I have to say that your new product has me more excited than any product release in the 12 years I've been in the industry." This was the opening sentence of the first email I sent to the Ocean Swipe team. And it's true. I was refreshing their homepage all day between aquarium visits. At noon today their Kickstarter campaign launched.
For those of you that don't know, the Ocean Swipe 360 is an automated algae magnet that can go around corners cleaning all four sides of your aquarium. To some this might be the most overkill piece of equipment ever conceived. To others like me this is a godsend. I want to spend my time focusing on the health of the inhabitants, feeding animals, and [unfortunately] cleaning filtration equipment. Not cleaning the glass. Here's a few key features that caught my eye when first reading about the Ocean Swipe 360:
Cleans both acrylic and glass panes.
Goes around corners cleaning all panes that don't have plumbing obtrusions.
Outer magnet hovers over pane without even touching it.
Inner magnet can be changed out to remove scratches then polish acrylic.
Customizable programming to keep inner magnet out of the sand.
Same aforementioned programming can be used to go around pumps.
Tracks can be installed in mere minutes.
Unit can be removed from tracks via top and bottom quick release fittings.
Cleans panes up to 1.25″ thick with heavy duty stepper motor available for thicker panes.
Safety mechanism built in to prevent injury to unsuspecting fingers.
Built-in Lithium ion battery runs for 45 minutes. Recharges automatically when robot "parks".
Estimated delivery is September, 2016. There are several options for the OS360, starting at $659 USD which includes: the touch screen, software, 24 ft. of track, 8 corner pieces, 2 cleaning pads and will fit an aquarium up to 26 inches high. This robot comes in black only.
Be sure to check out all the videos, additional options and even more information on their Kickstarter page.