While spring may be taking its time getting here in the Northeastern United States, you and your little one can still create a "garden" to enjoy indoors!  The first idea, by blogger Lollies or Candy, was inspired by picture book illustrations of the popular cartoon, "Octonauts" – the mom who came up with this craft thought that the anemones looked like paper cups, and designed and crafted accordingly. You can use colored cups, or paint white ones, and then you just need construction paper, a marker (or paint) to draw on the faces, and glue to attach the tentacles once they are cut. Super easy, and very cute:
Another take on the papercraft anemone theme are these toilet paper roll creatures. These are especially fun if your child loves to pain or color, and I love any craft that uses recycled materials. The instructions count's be more straightforward; simply color, inside and out, as many rolls as you're working with (and feel free to add faces, glitter glue, or other adornments – these are for fun, not for the science fair!), and then cut slits of the same length all around the top and fold them out to create the tentacles: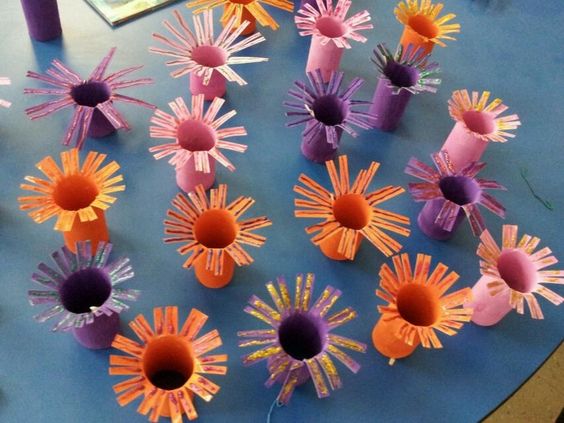 The third idea, by Julie at Director Jewels, goes in a completely different direction, and is perfect for a group activity, as you can prepare the supplies beforehand, and it requires only minimal supervision. You only need three things: a small round plastic canvas, pipe cleaners, and a pair of scissors. Prepare for the craft by cutting the pipe cleaners in half, or, if you're feeling extra creative, you can cut them to various lengths. Make the anemones by inserting both ends of the pipe cleaner through the same side of the canvas, pull tight, and twist to secure. Of course, the children's version will look a bit messier than the adult version, but this is about fun, not a perfect finished product!
**one note: remember that the ends of the pipe cleaners can be sharp, especially if the wire is exposed. This can be a learning opportunity, as "real" anemones can also sting you, but it's worth paying attention to.
Paper cup anemone photo and design credit: lollies or candy
Paper roll anemone: pintrest
Pipe cleaner anemone photos and design credit: director jewels