Hanna Instruments is one of those unique companies that regularly reimagines products and methods developed for different industries; adopting them for use in the aquarium hobby. From their line of handheld colorimeters that have changed the way we test for crucial water parameters to sophisticated testers used in large private and public aquariums, they continue to invent and reinterpret new, useful tools for checking our reef's chemistry.
This year, I was pleased to see their latest products for the aquarium market, and I had an interesting talk with Mr. Kevin Costa, the company's Sales & Marketing Representative, about their new introductions.
HI 83099 COD and Multiparameter Photometer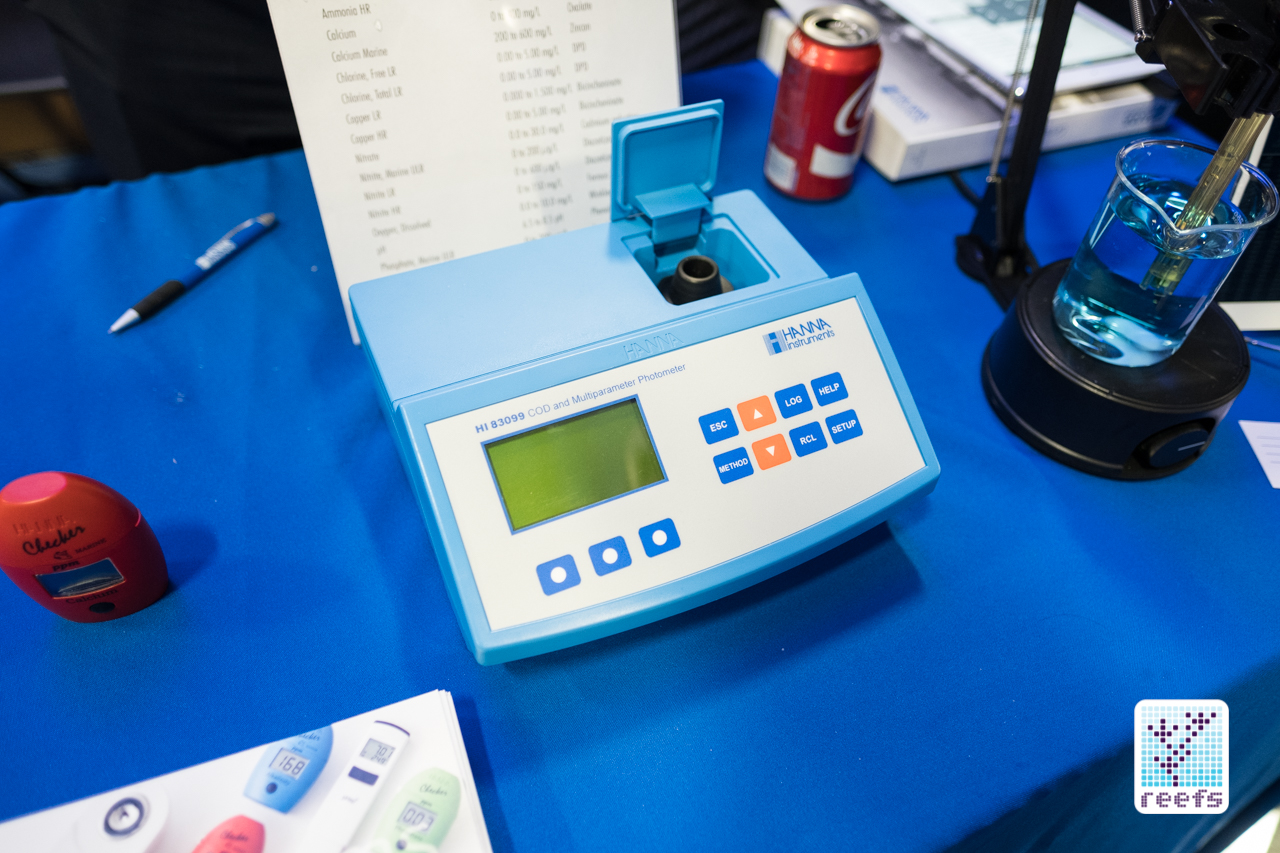 This behemoth of a photometer, and I mean not in size, but in usability, is like the Peppermint Angelfish of aquarium testing equipment. This compact desktop meter measures an astounding 47 different parameters using COD (chemical oxygen demand) and specific ion measurement, and displays the results on an easy to read LCD screen. Now I won't list all of the parameters HI 83099 is able to measure, but some of the most interesting ones include: Ammonia, Alkalinity, Calcium, Chlorine, Bromine, Copper, Iodine, Iron, Magnesium, Nitrate, Dissolved Oxygen, Ozone, Phosphate, pH, Phosphorus, Potassium, Silica… and the list goes on. There's even a USB cable connection for logging data to an external computer using Hanna Instruments' proprietary software. It's a magnificent piece of testing equipment dedicated to the serious reefer crowd.
See details about the Hanna HI 83099 HERE.
HALO Wireless pH Meter
This is one of those things that makes you scream "Why has no one ever thought of that before?!" HALO is the world's first wireless pH meter for home aquaria. It looks and performs just like a standard lab grade pH probe, but without all the wiring attached to it. Instead, it uses Bluteooth signal and a smartphone equipped with the Hanna Lab App for reading results and logging data. You can even calibrate the probe straight from your phone. The beauty of such a device is that you can take it with you anywhere, check the pH of different systems, and then analyze the data later.
Check out more info on Hanna HALO by going to Prodct Page.
Here are some images I snapped at the Hanna booth, and if you'd like to learn more about the line of products Hanna Instruments makes, visit the company's Official Page.
Hanna Instruments Booth in pictures