Finding a good skimmer for a MiniReef of 80-100 liters isn't easy; we decided to try the Tunze 9004.
Soon, we're going to begin a new project: an 80 liter MiniReef. So we had to chose a whole host of accessories. We've already spoke about some of them, and in the following weeks we will complete the set, including the beautiful piece of furniture.
In truth the MiniReef will be given to my 11-year old daughter Arianna, who will independently take care of it.
We don't know what will be hosted in the aquarium (seahorses, hard corals, SPS or LPS…), so we decided to provide it with a versatile and great skimmer.
We present to you the tunze 9004.
Technical characteristics of the Comline Doc Skimmer Tunze 9004
Suggested aquariums: from 60 to 250 liters – it depends on organic content;
Immersion depth between 225mm and 245mm;
Glass volume: 0.2 liters;
Air flow: about 150 l/h;
Consumption: 4 watt;
Dimensions: 110 x 90 x 305 (h) mm

Maximum glass thickness

: 12 mm
We don't have the flow rate and it will be hard to measure it this time, but it has a declared value of 150 l/h, not bad at all for its small size and a power consumption of just 4 watt.
This skimmer will be heavily tested like its "brother" Tunze 9415 (review).
The pump in really small! The rotor and the needles are so tiny… And this distinctive electric blue color makes it very beautiful.
The tunze 9004 can be totally disassembled, even though its square base is different from cylindrical, conical, or conical truncated skimmers.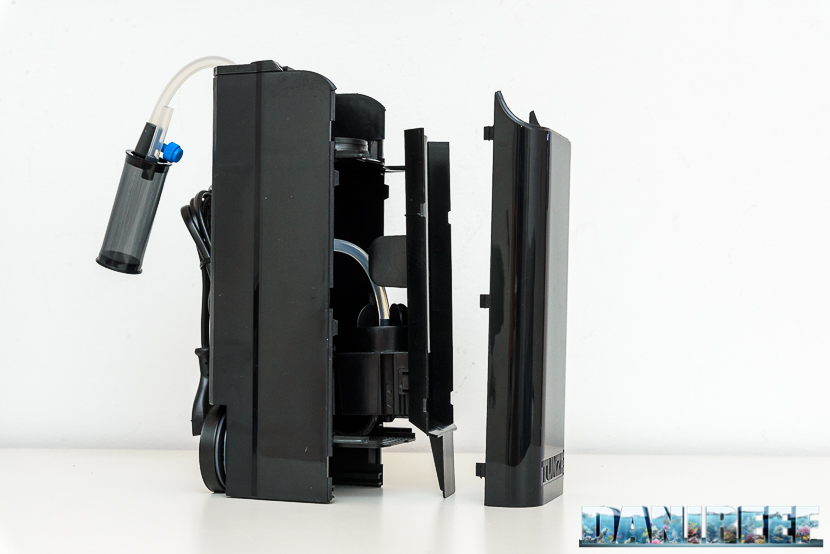 Now we have to fill our aquarium and study its behavior!
The price of the Comline Doc Skimmer tunze 9004 is 137,70 euro, apparently appropriate for this kind of object. Once we've tried it we'll tell you if it's worth it!
[Translated by Agnese Poggi]