The combined booth of Sicce and Seachem was one of the more impressive sights at Zoomark 2017.
The booth was located in pavillon 19, which was dedicated to AquaProject, and occupied a whole side of the place, including a space for Aquascaping and a stage for the shows.
Sicce and Seachem shared the same booth because they have been teaming up as of late, and presented their synergistic relationship presented to the public during the Open House in February of this year.
The new Syncra SDC pumps by Sicce
We met Federico Carraro for sicce Italia who introduced us to this great new product by Sicce for 2017: the new SDC pump or Syncra DC (Direct Current). We had seen a prototype of this pump at Interzoo 2016 (here) and at the Open House.
The latest news is that the pump will be soon available to the public, and we are looking forward to testing one out and providing a comprehensive review.
The Syncra SDC 7.0 (in the above picture) has a flow rate of 7000 l/h, as the name itself says. It has 3.5 meters of hydraulic head and the maximum consumption is about 60 Watts. It's a very interesting pump, and comes in two additional sizes:
Syncra SDC 5.5 : 5700 l/h flow rate, 3 meters of hydraulic head and a maximum consumption of 50 Watts;
Syncra SDC 9.0 : 9000 l/h flow rate, 4.5 meters of hydraulic head and a maximum consumption of 90 Watts.
This pump is able to be totally controlled by smartphone, but it also has a physical controller, which you can see in the picture below.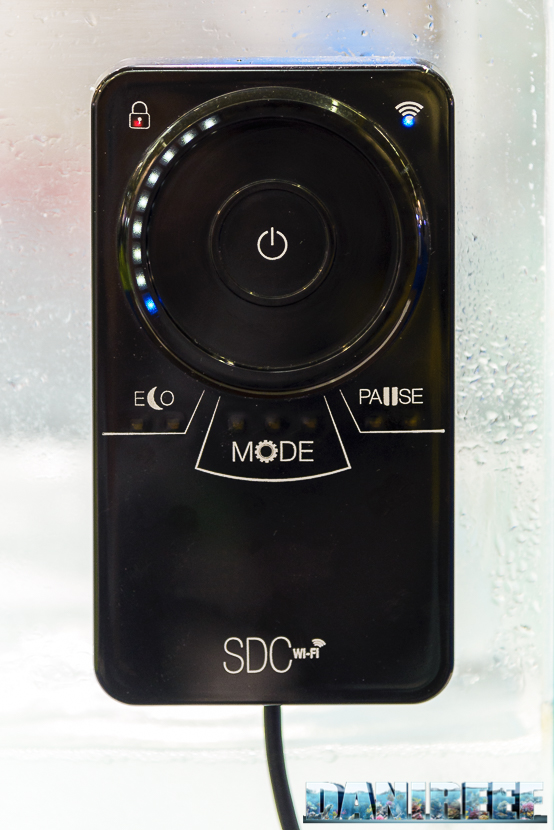 Federico explained that the WiFi security protocol has been created in order to be safe from outside controls or influence; we're looking forward to have one of these incredible tools in our sump.
Above you can see a couple of sicce Syncra SDC. They almost seem the same pump, but they're two different types, as you can see from the tag and from the PVC junctions.
Seachem at the Zoomark 2017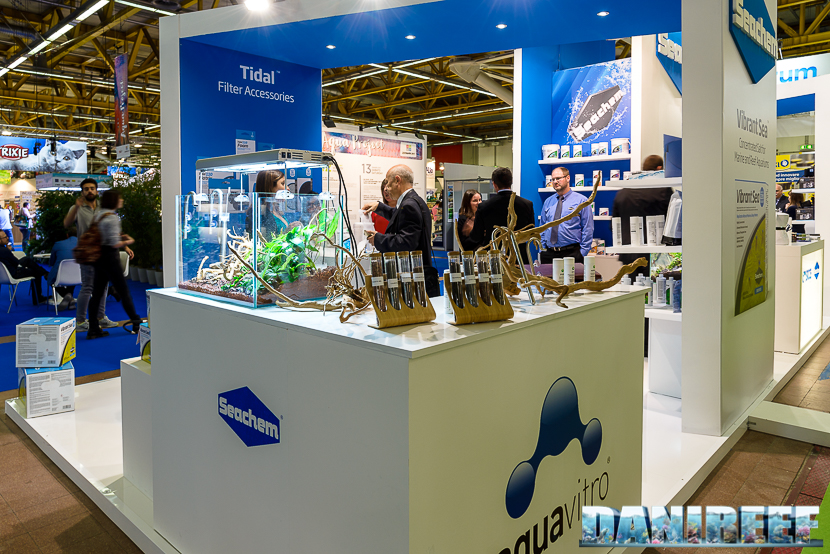 Seachem has recently debuted an incredible amount of products.
Andrea Ongaro entertained us for Seachem. He began in Italy, but today he works at the headquarters of Seachem.
The Tidal filter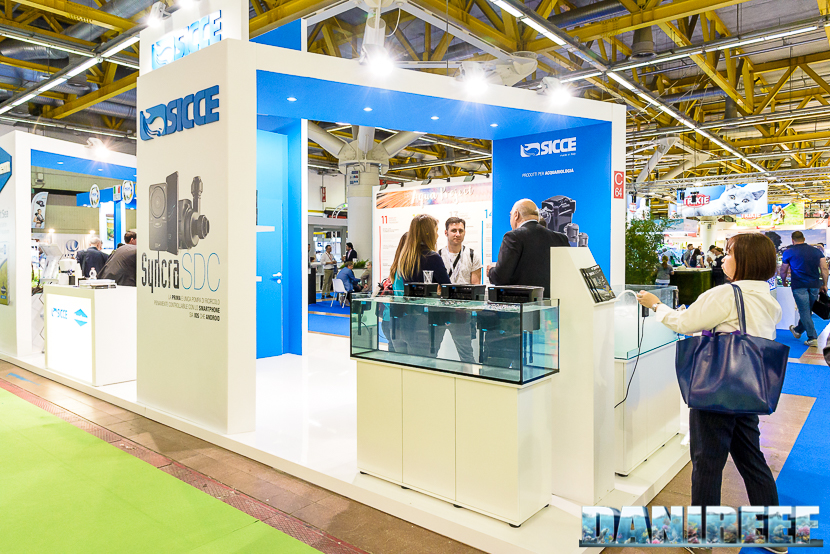 One of their most interesting new products (which has all Seachem attention today) is the new Tidal filter; it's available in three different forms and it seems to be very liked by the public.
It's a innovative, backpacked filter with some important technical devices. There are currently three models:
Tidal 55 for aquariums up to 200 liters, with a flow rate of 1000 l/h and a declared consumption of 5 Watts;
Tidal 75 for aquariums up to 300 liters, with a flow rate of 1500 l/h and consumption of 7 Watts;
Tidal 110 for aquariums up to 400 liters, with a flow rate of 2000 l/h and consumption of 10 Watts.
All three filters are made with a one-piece enclosure in order to reduce the losses due to junctures. It has an aspiration pump with a self-cleaning and adjustable rotor (with a ferrule in the upper part); the place for the basket with the various media, and an extra space in case you want to place a heater.
The new Vibrant Sea salt by Seachem
Another interesting product (in preview for the Italian market) is the new marine salt Vibrant Sea. This is another product we're eager to test.
Andrea's touch was clear in this beautiful Aquascaping.
And in this hardscape, before it was filled with water.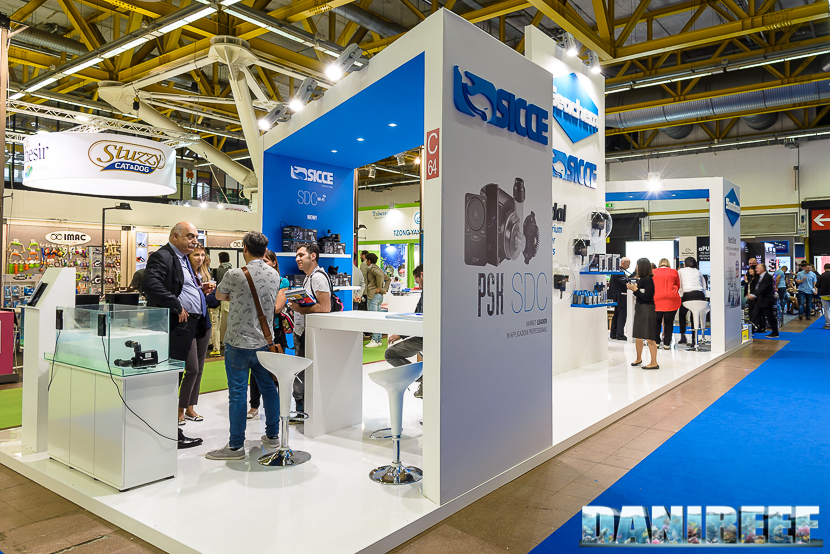 If you want to deepen your knowledge of sicce and Seachem we invite you to visit their homepage through the links provided here:
Homepage Sicce
Homepage Seachem
Zoomark 2017 Editorial
(Translated by Agnese Poggi)