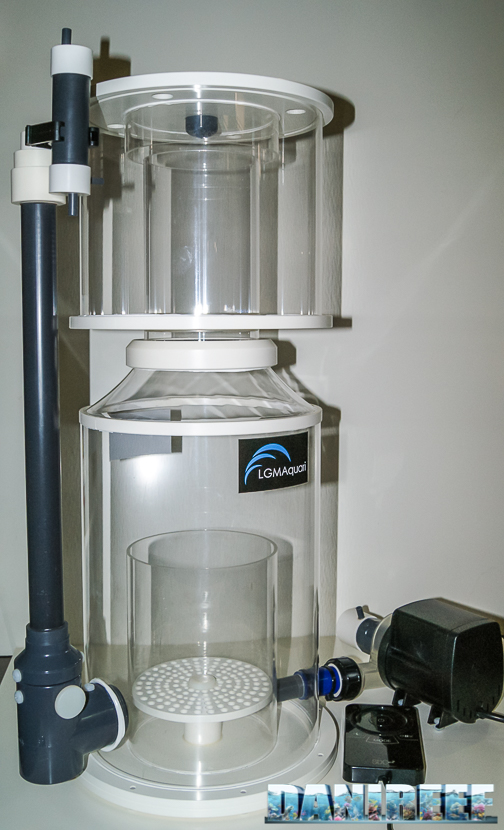 LGMAquari has updated its skimmer line with two new tools, the LGs 2250 and the LGs 2550, at the same time as the release of the new powerful Sicce SDC 4000.
These two little monsters are appropriate for aquariums of big size.
LGMAquari LGs 2050
The "younger brother", has very notable characteristics:
Type: internal skimmer
Ideal for tanks up to: 2,000 liters with SPS corals
Treated water: 1,800 l/h
Treated air: 1,600 l/h
Pumps: 2 sicce PSK1000
Height: 63 cm
Dimensions: 44×29 cm
Price: 1,373.72

euro
This skimmer has been updated and there are many benefits, like the possibility of being completely disassembled, as you can see in the following pictures.
So it's a giant skimmer with a diameter of 20 cm for enormous aquariums. Just to be clear: a 2,000 liter aquarium has dimensions of 300x80x80. We are familiar with the pumps, they're a couple of sicce PSK1000 that we've used in other skimmers in the past. Obviously with a brush impeller. The skimmer works at its best with almost 20 cm of water in the sump.
The drain can be positioned high or low. I prefer it high in order to make it drain directly into the return compartment, so you can have the perfect circuit. The venturi of the pumps are down-oriented in order to suck the majority of the sediment.
The materials also are different from the old LGMAquari productions, with a large use of transparencies and a large white PVC.
The fixing screws are made of nylon, in order to not compromise the thread (which could happen with metal screws). Moreover, they don't oxidize or get rusty.
LGMAquari LGs 2550
The "elder brother" is a new model, presented with even better characteristics, using the new electric pump sicce PSH SDC 4000. Here's the same picture as in the opening: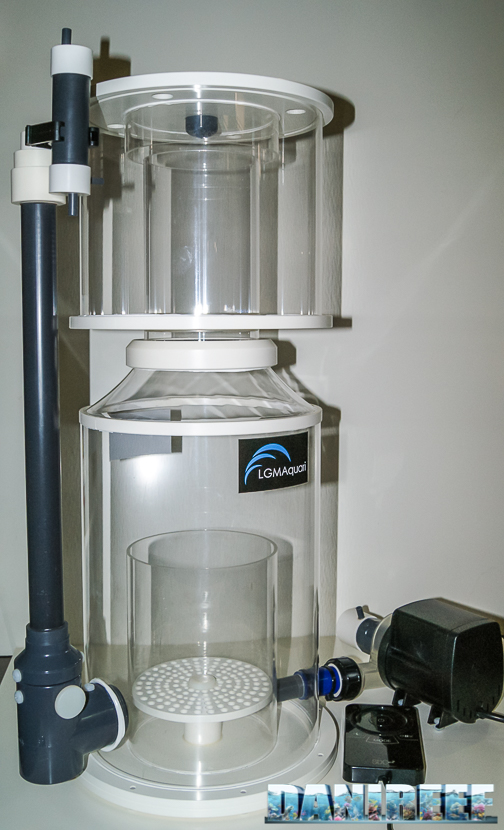 Type: inner skimmer
Ideal for tanks up to: 2,800 liters with SPS corals
Treated water: 1,400-2,800 l/h
Treated air: 600-2,200 l/h
Pump: sicce PSH SDC 4000, adjustable
Price: Not declared

The technical data are amazing, but it's a pity to still not have available the price of the 'LGs 2550. But the pump promises incredible performances with its 2,800 l/h of treated water and air, so the skimmer is able to manage an aquarium up to 2,800 liters.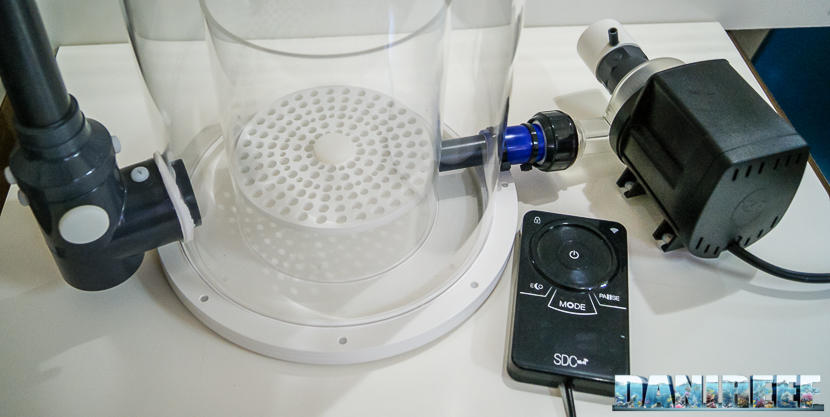 It shares many of the same characteristics with its "little brother" LGs 2050: it can be completely disassembled and the drain can be high or low. I always suggest using the high one. And again, the set of screws is in nylon.
These seem to be two optimal skimmers, and we have no doubt that they are going to work perfectly. In fact, the LGs 850 we tested years ago was impeccable and we liked it very much, as you can read here.
[translated by Agnese Poggi]